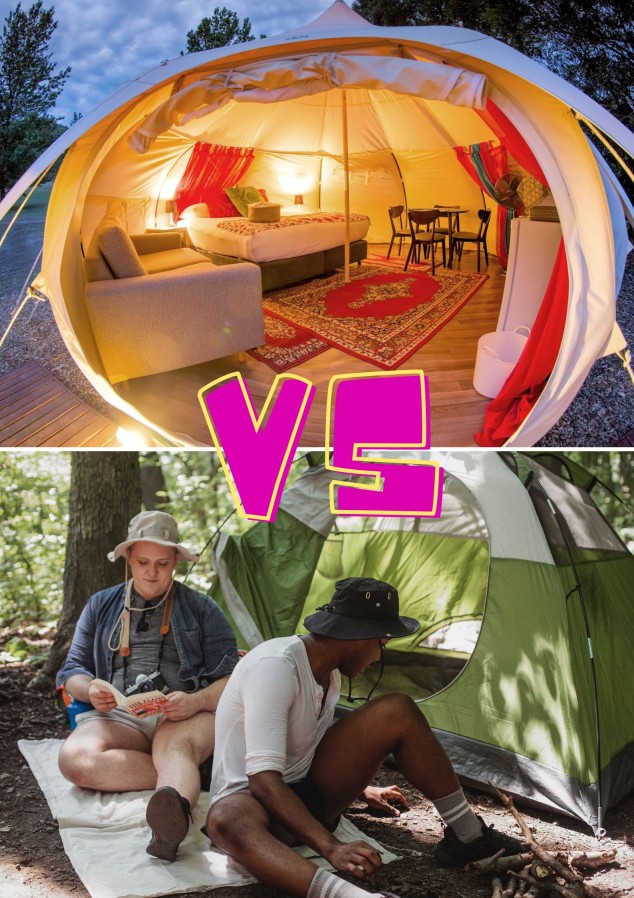 Do you prefer glamping or camping? Tell us in the comments!
Are you a glamper or a camper?
If you find yourself not too sure, check out our listicle and see which style suits you best!
Check it out here:
GLAMPING
Comfort
Glamping allows you to experience the great outdoors while still enjoying many of the comforts of home.
You have countless options, ranging from safari tents to lush cabins that offer comfortable beds, heating and air conditioning, and even private bathrooms.
Check out the different types of glamping accommodations here.
Convenience
Unlike traditional camping, glamping requires little to no setup or cleanup.
Everything is already provided for you, which makes it a great option for those who want to enjoy the outdoors without the hassle.
Unique
Glamping offers a totally unique experience that no hotel or traditional camping can provide.
Envision glamping in a treehouse in a lush rainforest in the comfort of a queen bed, or a safari tent in the Aussie bushland with a heated pool.
It's completely unlike anything you've ever experienced before.
Access to nature
Glamping allows you access to nature without having to be in nature.
You can wake up to the sounds of the birds chirping, go on a nature walk, and enjoy beautiful views, all while staying in a comfortable and luxurious setting.
This is an excellent option for beginner campers looking to get a feel for the outdoors.
CAMPING
Affordability
One of the best things about camping is that it's a SUPER affordable option for outdoor recreation.
You won't have to dish out thousands of dollars on accomodation or activities, and you'll get a real sense of fulfilment.
Connection to nature
Camping allows you to disconnect from technology and the hustle and bustle of daily life, and connect with the natural environment around you.
This is an excellent way to recharge and destress, and is proven to improve your general well-being.
This varies from glamping in the sense you truly get to be one with nature and your surroundings, and gives you to oppurtunity to fully switch off.
Flexibility
Camping offers a flexibility not many other accomodation styles can offer.
You can set up camp in a varierty of places and locations with all kinds of biomes.
Your experience is totally customisable, as you get to choose exactly what kind of equipment you bring to suit your chosen camping style.
Skill building
Camping can be extremely beneficial for building a diverse set of skills.
Setting up camp, building a campfire and wilderness navigational will all come in handy, especially for the kiddos.
LATEST POSTS: